The smell.  The rudeness.  The delays.  Oh how I miss thee and all your glory.
What I would give to hold my breath as I walk from car to car trying to find a non-enforced social distance from my fellow rider who may or may have not showered within the last 24 hours.  It would be glorious.  In fact, if I'm being honest, I dream about it quite often.  It was just the other day that my 15 month-old daugther was giving me the 39th tour of our bathroom when my mind started to wander.  The sound from my toilet seat going up and down, slamming over and over again, sheets of highly coveted toilet paper ripped to shreds, followed by the most innocent giggle brought back the psychotic hilarity that comes with riding NJTRANSIT daily.
Let me set the scene …
I envisioned myself sitting in a semi-broken two seater with the springs from the bottom of my worn $300+ per month seat piercing my left ass cheek.  I was by my lonesome, left alone to my own devices.  The sun beaming through the microscopic openings among the dirt crust implanted upon the window, kinda like the seven bushes scene from my all time favorite movie, "My Cousin Vinny" where Joe Pesci, "playing" an Italian from New York saves another Italian, Ralph Macchio from the electric chair …
…. Or maybe it was dried up spit from a crackhead, I dunno.  Anyway,  I had a podcast on, probably "American Glutton", hosted by Ethan Suplee, which is absolutely fantastic.  I was wearing jeans that were washed and my hair was freshly cut.  Low fade, leave the top somewhat long.  I looked like a human being.  This put a lot in perspective.  It meant that the next time I came across an inspirational quote about acheiving your dreams from a chronic under-acheiver on my newsfeed that I'd force myself to recite my own dream:
"My dream right now is to ride the train to work … and I want to ride it slooowwwlllyyy.  It will happen someday."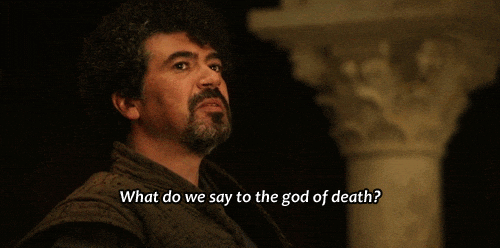 … but not today.
Is that too much to ask?  All I want is to be shoulder to shoulder with some randos in Penn Station.  Oh you're sweating?  No problem man, come on over and make yourself comfortable.  Oh, you have an addiction to meth and may try to steal my wallet or worse, shank me?  Saddle up, partner!  Let's … get … to know each other.
I'm all about it.  For fucks sake, a delayed and cancelled train is all I need.  I'll go grab my 6th cup of coffee at the Dunkin in Penn Station, make some terrible jokes to the ladies that work there and take my sweet ass fuckin' time.  I'd be in such a good mood that nothing could knock me down of my high horse of positivity.  Like maybe they gave me a donut by accident.  I mean, we've only been in solitary confindment for a few months now, so I can't blame them if they mistook me for someone who eats simple carbs on the regular and lacks total self-respect.
If you think about it, if you're going through "people" withdrawal, there's no better destination than Penn Station.   It's got Starbucks, Dunkin' Donuts, GNC, Fridays, K-Mart, Subway, Rose's Pizza, random bakeries and they even have bars now other than Tracks.  It's filled with people.  It would only take one commute to enter the last stage of recovery.  You'll be so happy, you'll even let the begger with the best sales pitch swipe your metrocard for a free ride.  After all, by the time we're in the clear it will be Christmas, the season of giving.  Spread the Christmas Cheer, just not the virus.  Now back the fuck up.  Six feet said Fauci, another Italian from New York.
Shout out to all the short Italians from Brooklyn.  We Made It.
Another thing I miss about NJTRANSIT is that no day is the same.  One day can be smooth sailing and the next can make the coronavirus pandemic look like an actual vacation.  Every day I wake up and don't know what day it is.  Then I start to realize that it doesn't even matter.  It's just "the day".  For work, my wife and I have established shifts with your break being that you get to sit down in a chair and talk to your co-workers on Slack.  Video conferences all up in this bitch.  I bet those Zoom calls felt really cool when we all thought this would only last a week or two, am I right?  As for the other person during the shift, they get to climb the stairs repeatedly with our adorable, best of all time – daughter.  The reward, she'll brush your teeth with every tooth brush present for the next 45 minutes.  Minty fresh and blessed.  I love parenthood.
I used to complain about my commute.  I started this blog to do just that after all, but now I long for it.  I cannot fuckin' wait to defrost my car again before driving to the train station.  Even if we're back and the weather is amazing, I'm still turning the defrost on.  I need that nostaglia that reminds me about how things once were.  When that'll happen, I don't know?  I wish I could tell you.  But if I was to predict one thing, it's that you're not gonna be hearing any more complaining from me.
… for now.
Stay safe and wash ya hands.  I'll see you all in 2021.